If you spend any time at all at Saratoga Race Course, you are bound to see a familiar sight: top-level trainers driving golf carts back and forth from the main track to the Oklahoma training track.
You can bet one of those golf carts will be carrying future Hall of Fame trainer Todd Pletcher and his father, J.J. Pletcher. The relationship these two have is one that I personally admire. To see a father and son spend almost every morning together at the barn year after year and not grow tired of each other requires a mutual admiration and respect.
We were fortunate to spend some time with J.J. at Saratoga one morning last summer, riding along on the golf cart, of course. We covered a lot of ground in our nearly one-hour talk, discussing the state of the industry today, what it's like being a father-son team in the Thoroughbred business, and the importance of passing along the art of horsemanship to the next generation.
"My Dad is a terrific father, but his relationships with my three children is extra, extra special. His concern for making sure they are on the right path is just amazing to watch."
– Todd Pletcher
While horse racing is best enjoyed taking in its majesty and pageantry visually, J.J. emphasized how much can be learned about a horse just by listening. "Todd jogs his horses up and down all the time; you don't have to watch them jog, you just listen. You can hear if one is off a little bit… Listening is a big part of it. Listen to their breathing, listen at the way they hit the ground. It's easy to catch something that's not right."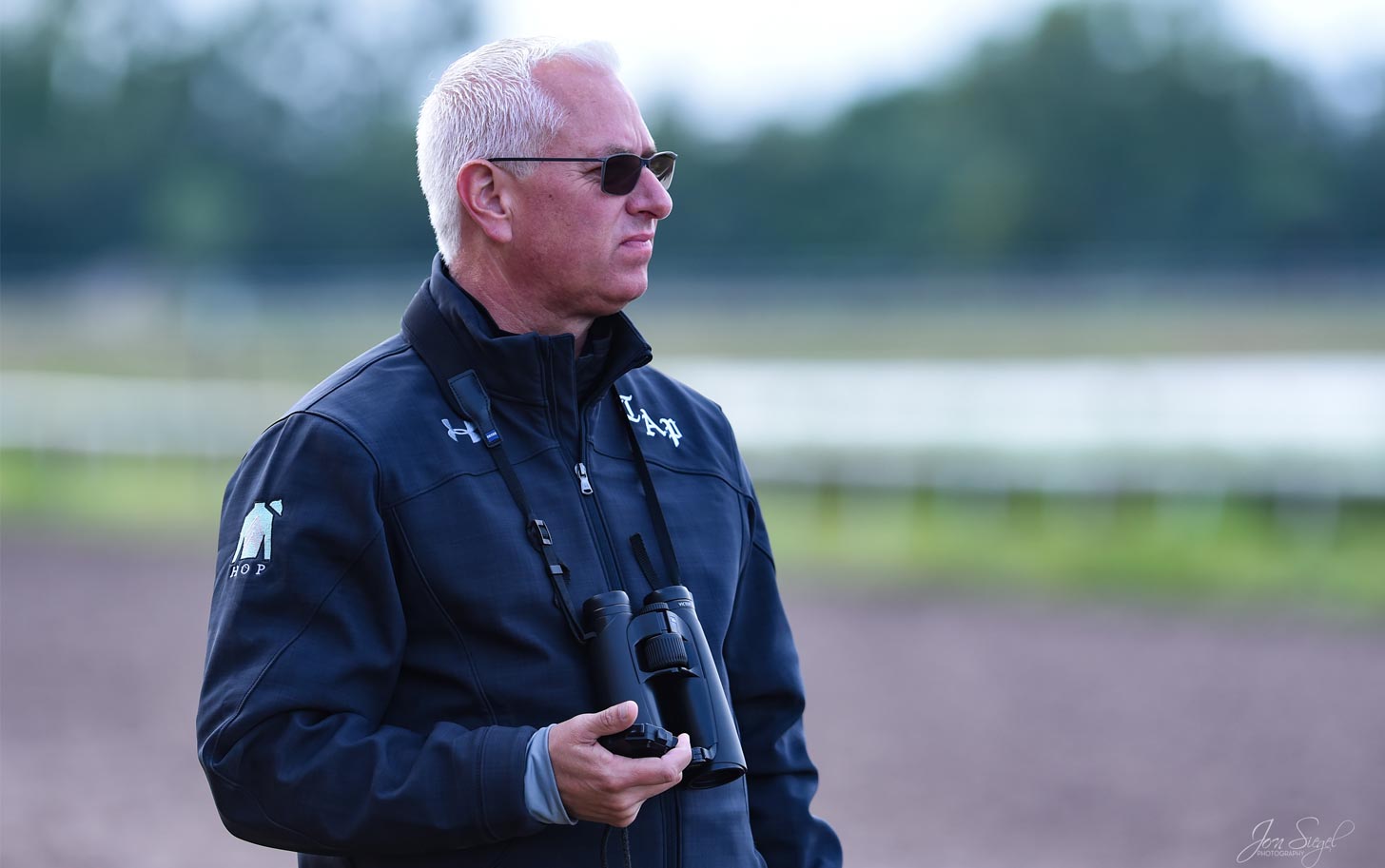 "I spent most of my time with him when I was younger just learning from his example. He spent a lot of time teaching me about the conformation of a horse and what a good one should look like. That is his secret weapon. A lot of people can identify the expensive ones, but to identify a good one that is in a lower price range is a real skill. He purchased English Channel for $50,000 and he went on to earn more than $5 million. He sees things that others don't."
– Todd Pletcher
It wasn't a surprise to learn about horses from J.J., but it was inspiring to see a man who has spent much of his life surrounded by horses and those who care for them interact with so many people on the backstretch. From grooms to exercise riders, security guards and owners, each person said hello to J.J. with such respect, and he, in turn, greeted them with the same respect, and each one by name.
The respect is evident when you watch J.J. imparting wisdom learned from a lifetime in the business to one of his grandchildren. Todd has three kids—sons Payton and Kyle and daughter, Hannah.  J.J. is modest when discussing what he has meant to Todd, saying "He's so much smarter than I am, it's unbelievable. That's what I tell everybody…He learned everything I knew in about 30 minutes."
"One of his greatest contributions after a lifetime of commitment to the game will be the relationships he has cultivated over the years. The owners he has brought to the game and the horses he has developed along the way will carry his legacy."
– Todd Pletcher
Safe to say, Todd learned a lot about horsemanship and values from his father. He began working for J.J. when he was seven, walking hots at Ruidoso Downs in New Mexico. Now, after all of Todd's numerous accomplishments and training titles, with countless champions having received their start at J.J.'s Payton Training Center in Ocala, Fla., J.J. continues to pass his influence on to yet another generation.
You can, without question, learn a lot about horses hanging out with J.J., but my major takeaways from our visit was that what truly matters and what you will be most remembered for are the relationships that you build and the respect and appreciation you have for those around you. I also learned that if we all stop and listen, we will understand even more about our experience with horses and be able to serve them better.