I've been around horses all my life and have met all types of them, but some horses… some horses are just special. Conquest Typhoon was one of them.
I remember the first time I saw "Phoony." It was Breeders' Cup week 2014 and he had just shipped to Mark Casse's Santa Anita string from Woodbine to compete in the Juvenile Turf. My boyfriend at the time, Allen, told me he was a horse I had to meet because of his personality. I remember the exact stall he was in and walking towards it. A bay colt popped his head out of the stall at the sound of people approaching and as quickly as he locked his gaze onto us, his tongue popped out of his mouth – a trick he had learned when he first came to their farm in Florida, Allen said, and a trick that he used to get attention.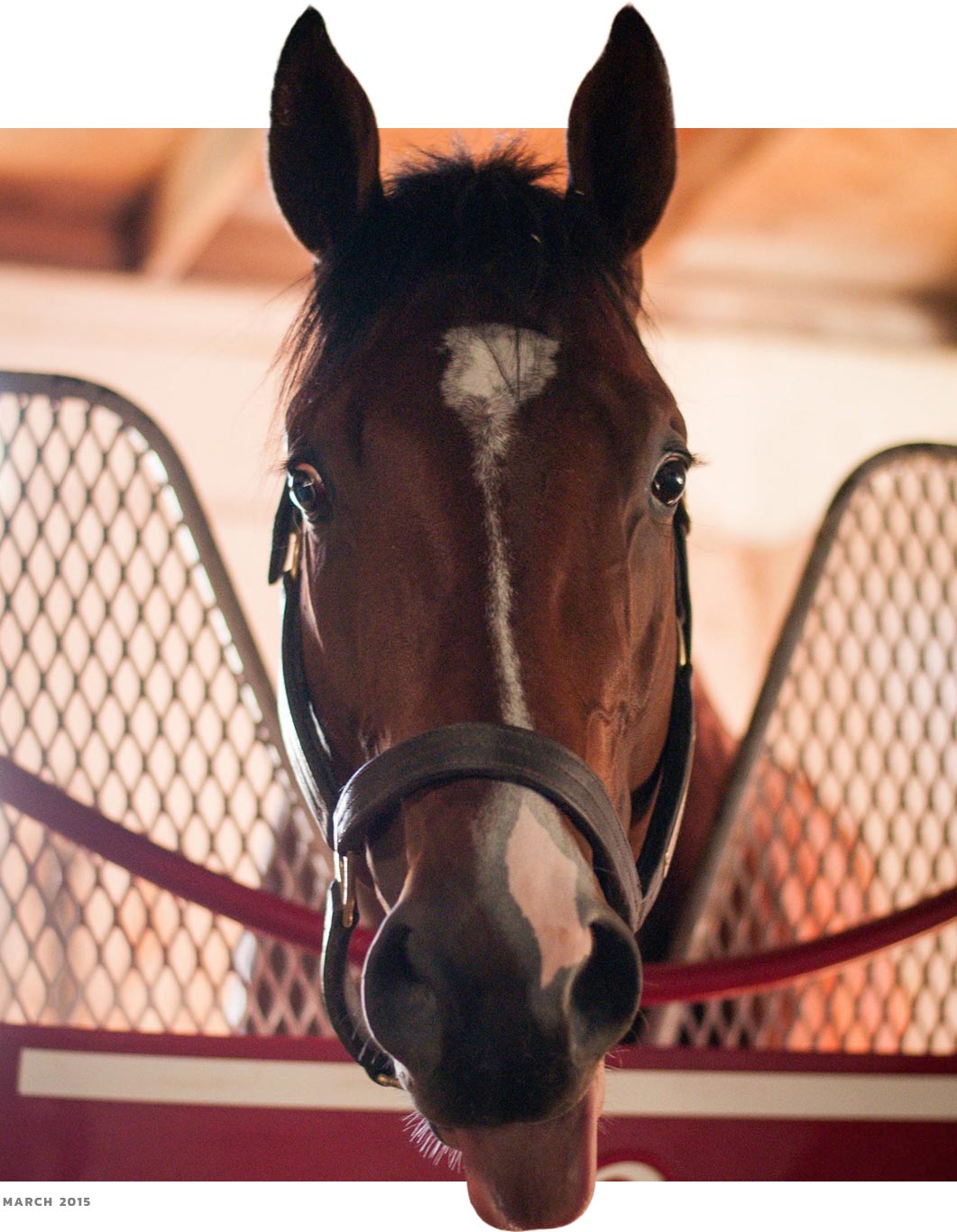 And that's all that it took for me to be stuck to him like glue. He had a personality unlike any other horse. I could say his name half-way down the shedrow and he would run to the front of the stall and whinny a greeting before sticking his tongue out for me to hold (a weird quirk but if you didn't hold his tongue, he would smack you in the face with it until you did). For the next five months that he was in California, I spent countless hours at his stall, arguably more time than I spent with my own horses at Santa Anita. Enough hours that the horses stabled around him learned to stick their tongue so they could beg for attention as well (I obliged for a few minutes, of course).
The lovefest didn't stop when he shipped back to the east coast circuit. I was fortunate enough to see him in Kentucky numerous times and in Maryland, too. Every state and every racetrack, when I said his name, I was greeted with a whinny and a tongue. Every race I couldn't be there for, I watched remotely from five different countries (my first presentation for Godolphin Flying Start in Ireland was even on him). I talked everyone's ears off about him, but I couldn't help it. That quirky bay horse was the racehorse love of my life, my heart horse.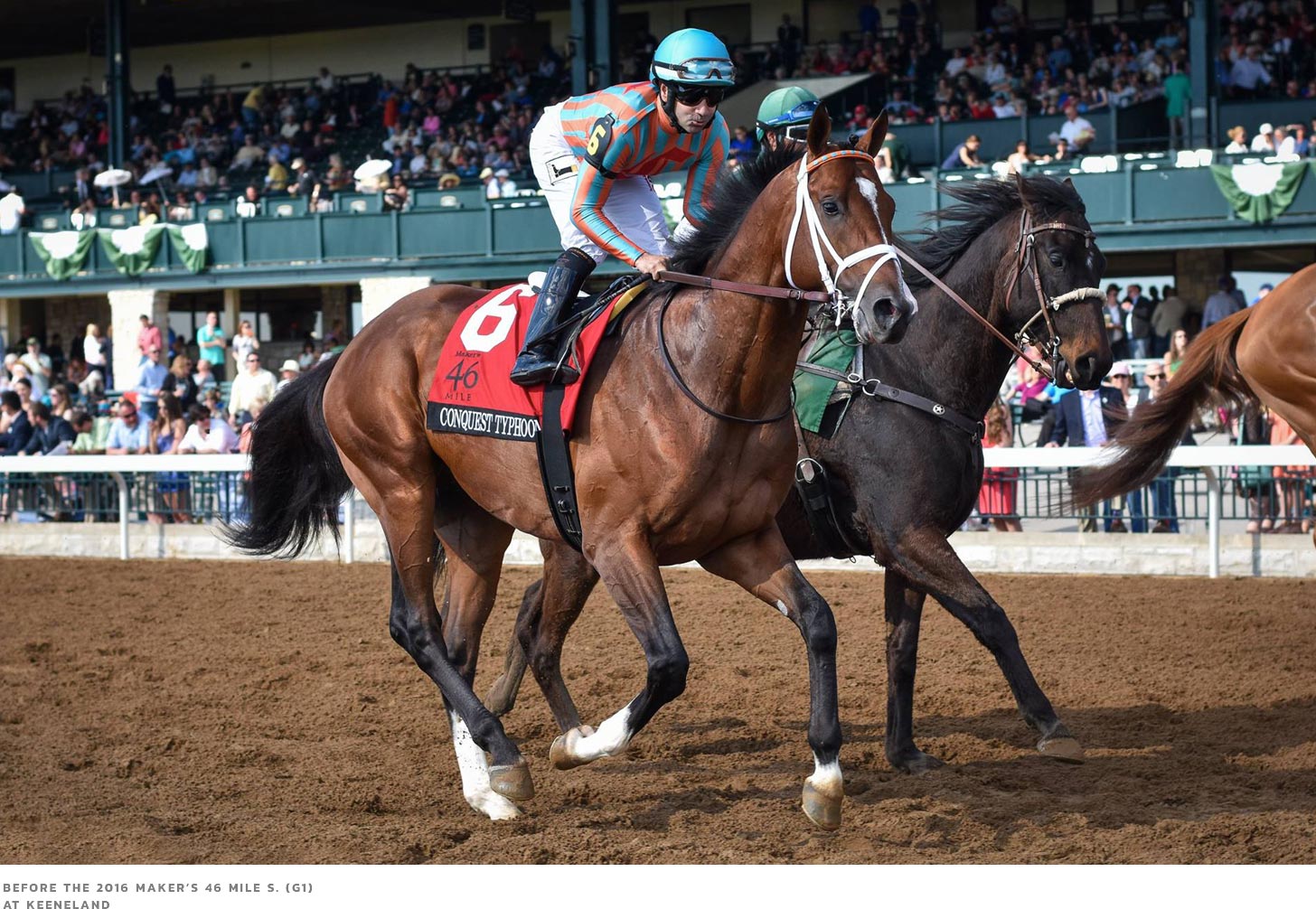 I experienced every emotion with him. I laughed over his antics. I thought I was going to be sick before every race. I cried happy tears when he won. I felt relief every time I saw him back in the barn, happy and healthy. As the years passed, I felt helpless watching him drop from stakes races to claiming races, bouncing from new trainer to new trainer, every trainer getting a message from me about how special he was. I felt complete and utter despair when I got the phone call that he was lost in the San Luis Rey fire. Selfishly, he was what I cared about most in that fire. Two days after the fire when he still hadn't been found, I thought I had lost him. But, incredibly, he was identified even though his face was burnt so his blaze was unrecognizable and his lip tattoo was charred. He was alive with smoke inhalation and, somehow, only burns on his face. That phone call was one of the best that I have ever received.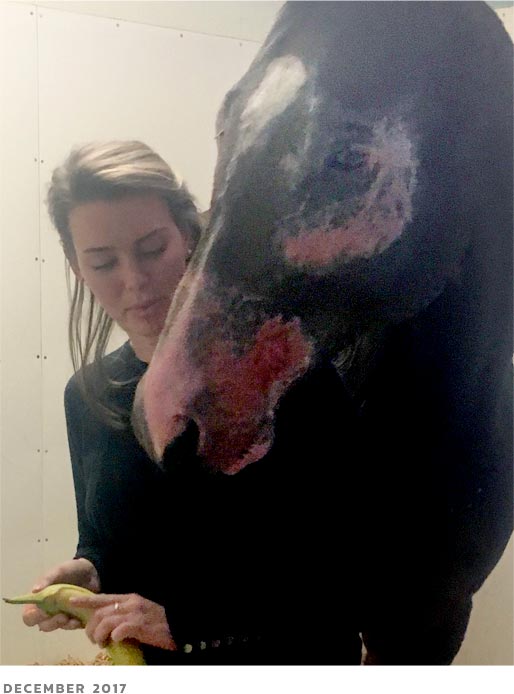 I went home for Christmas 2017, two weeks after the fire, and my only wish was to see him. I visited him in the hospital while he was healing from his burns, but he stuck his tongue out for me and his spunky personality was still very much there. That was something even the horrors of the fire couldn't take away. But just like the phoenix that rises from the ashes, he made it back to the races and even into the winner's circle twice (more nerves, so many more happy tears).
Christmas Eve 2018, I went to Santa Anita specifically so I could see him while I was home. His scarred face still the most beautiful one on the backside. I was greeted with a whinny and he stuck his tongue out for me, which the groom said was the first time he had done it since he was claimed into their barn.
He was retired in March 2019 of this year because of a minor issue and, at first, it was bittersweet, quickly followed by joy, so much joy, because once he had joined the CARMA rehab program and once he was rehabbed completely, there were plans for him to join my family officially. Our happy ending. I dreamt of doing the Retired Racehorse Project Thoroughbred Makeover with him, trying him over some small jumps to see if he enjoyed it, taking him on trail rides with my other two horses, Cinch (also known as "The Love of My Life") and Fox, and giving him the life he desired and adoring him every second while he grew old. I dreamt about that for months.
I remember the last time I saw him. I had to make an impromptu trip home at the end of June because my dad had quadruple bypass surgery (he is recovering well). When we got to the CARMA facility, he was turned out in a small grass paddock, a sight that I was beyond happy to see. While walking up to the paddock, I sang our old greeting, his head came up from the grass he was eating and he whinnied and walked over to me, just like he had so many times before over the last four and a half years.
He had relaxed so much in those years, but even more so in his few months of retirement. I spent the whole time hugging him and petting him (something I never would have been able to do when he was a feisty 2-year-old) while my mom talked to the people at CARMA about his rehab and our plans for retraining. We talked about how incredibly loved he was by everyone that ever met him. I ordered a fly mask for him that would protect his scarred skin from the UV rays so that he could spend more time outside in the paddock. When we got home, my dad made him a rope halter in my favorite color so that it would be softer on his scars. Everyone was making plans for his future, for our dream of a life together.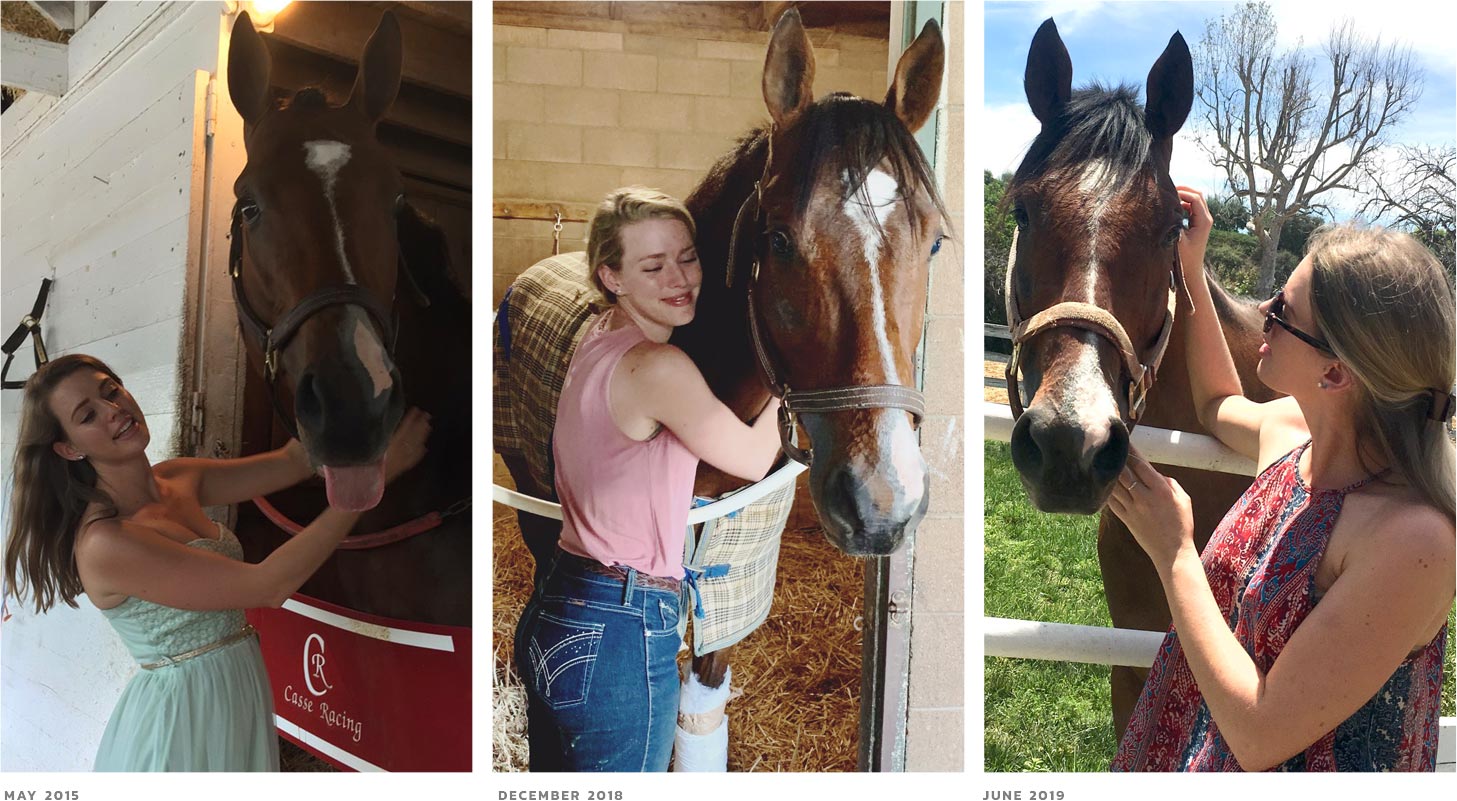 On July 7, 2019, Conquest Typhoon experienced what was, most likely, cardiac arrest. He went quickly and did not suffer. I thought I lost him in the fire and the pain was terrible, but there was that glimmer of hope, the eternal optimist in me, that he wasn't truly gone. I was lucky to get him back and to be able to see him three more times, not to mention the frequent updates from my mom who went to visit him in every new claiming barn he landed in and the updates from CARMA once he was retired.
That pain I thought I felt nearly two years ago was nothing compared to the pain of knowing that there is no chance I will never hear his whinny or hold his tongue again. This pain… It is excruciating. I wanted so badly for this to be our fairy tale ending.
To the horse that even a fire couldn't destroy the body or spirit.
To the horse who made everyone fall in love with him and who brought so much joy to people.
Forever in my heart and never to be forgotten.
Rest in peace, my heart horse, Conquest Typhoon.
One day we will be reunited.