Sir Winston Churchill is credited with the observation, "When you are on a great horse, you have the best seat you will ever have."
It led to the best seat in the house for Ed Swyer and the team behind Hudson River Farms' Winston C (IRE), a five-year-old bay gelding just 15.3 hands that, after an "indifferent" debut on the flat, broke his maiden over hurdles in Great Britain before jumping his way into the history books.
Less than six months after crossing the pond to start racing for Swyer in America, the little steeplechase horse that could delivered Saratoga's most epic jumping of the last 20 years. He closed the year for his Saratoga Springs owner with an Eclipse Award as North America's Steeplechase Horse of the Year.
Winston C's A,P, Smithwick (G1) win at Saratoga
New York Turf Writers Cup (G1) win
"Jonathan prefers smaller, compact horses," Swyer said about 13-time Eclipse Award-winning trainer and 1990 National Museum of Racing and Hall of Fame inductee, Jonathan Sheppard.
A bloodstock agent introduced Swyer to Sheppard three decades ago. He "got a few horses" and the rest is history. Their first New York Turf Writers Cup was an upset win in 2000 with Ninepins, who set a record as the oldest winner ever for the Grade 1 stakes.
Swyer was looking for a "competitive horse" to run in the Iroquois when Sheppard suggested a compact powerhouse, sired by Rip Van Winkle out of a Machiavellian mare, that sportswriters called "quick, coiled and ready," and had shown some talent for agents and steeplechase riders Noel Fehily and Tom Garner.
"He was quicker than the average European steeplechase type. That's why I recommended him," said Sheppard, the top U.S. steeplechase trainer of all-time in wins and earnings. "He's an honest goer and naturally competitive."
Sheppard's assistant trainer, Keri Brion, has been with Winston C since his arrival and American debut last May. "I unloaded Winston when he arrived from quarantine at our farm in Pennsylvania. He is all business. He knows his job is and that he is good at it!"
The catty gelding went straight to work relearning his approach to American hurdles. With 13 days to prepare, they started schooling right away. "He was fast but losing time," Sheppard said. "He hadn't figured his strides out yet."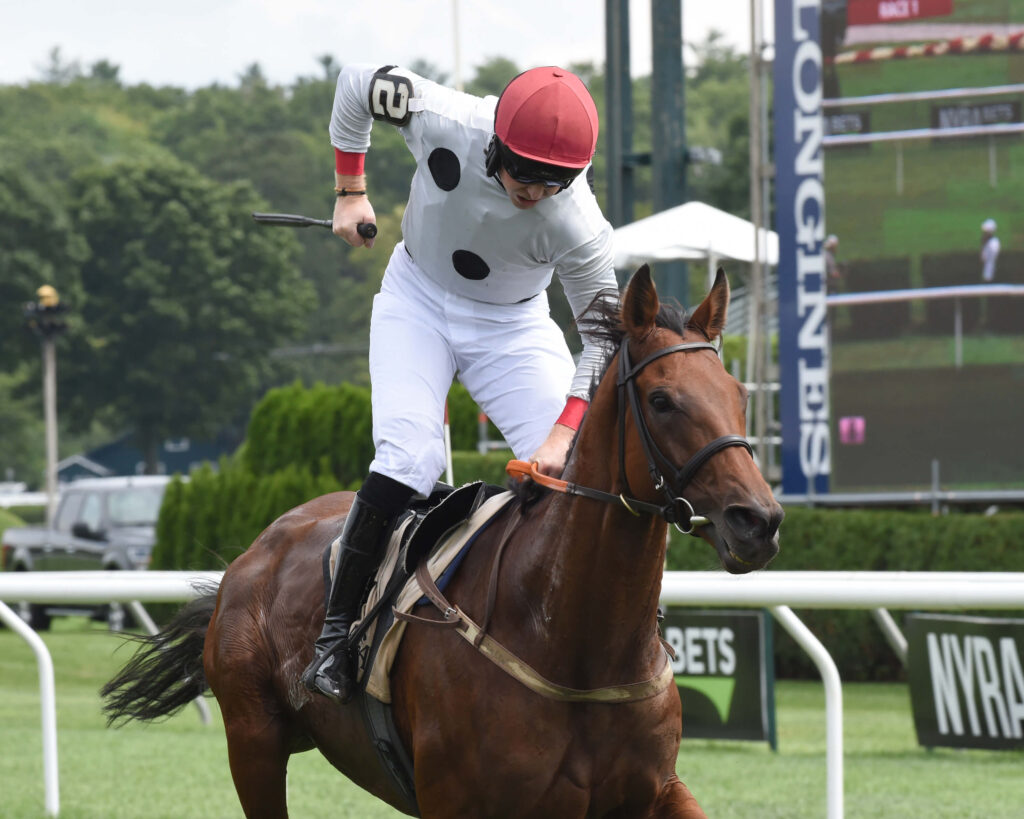 "The Iroquois is one of the biggest steeplechasing days of the year. It was a tight race," he said. Winston C was third. "He stepped up and surprised us. We knew we had something in this horse that was only going to improve with time."
They set their sights on Saratoga. "Jonathan decided to go with a G1 after the Iroquois. I thought it was a little bold, but how do you argue with Jonathan Sheppard?"
Winston C did not disappoint. With his old friend Garner in the irons, they won the 2 1/16-mile A.P. Smithwick Memorial Handicap (G1) in 3:45 ahead of Vosne Romanee, and the 2 3/8-mile New York Turf Writers Cup (G1), in 4:38 over Gibralfaro, becoming the first horse since Campanile in 1999 to sweep both Saratoga Grade 1 steeplechase stakes.
"It was one of my proudest moments as an assistant for Jonathan when Winston won the New York Turf Writers," Brion said. "No horse had swept the Grade 1s in Saratoga like that in 20 years. It was even more special because I had made the call to Ed when Noel and Tom offered Winston to us to buy. It's cool to have everything pay off and be a part of history."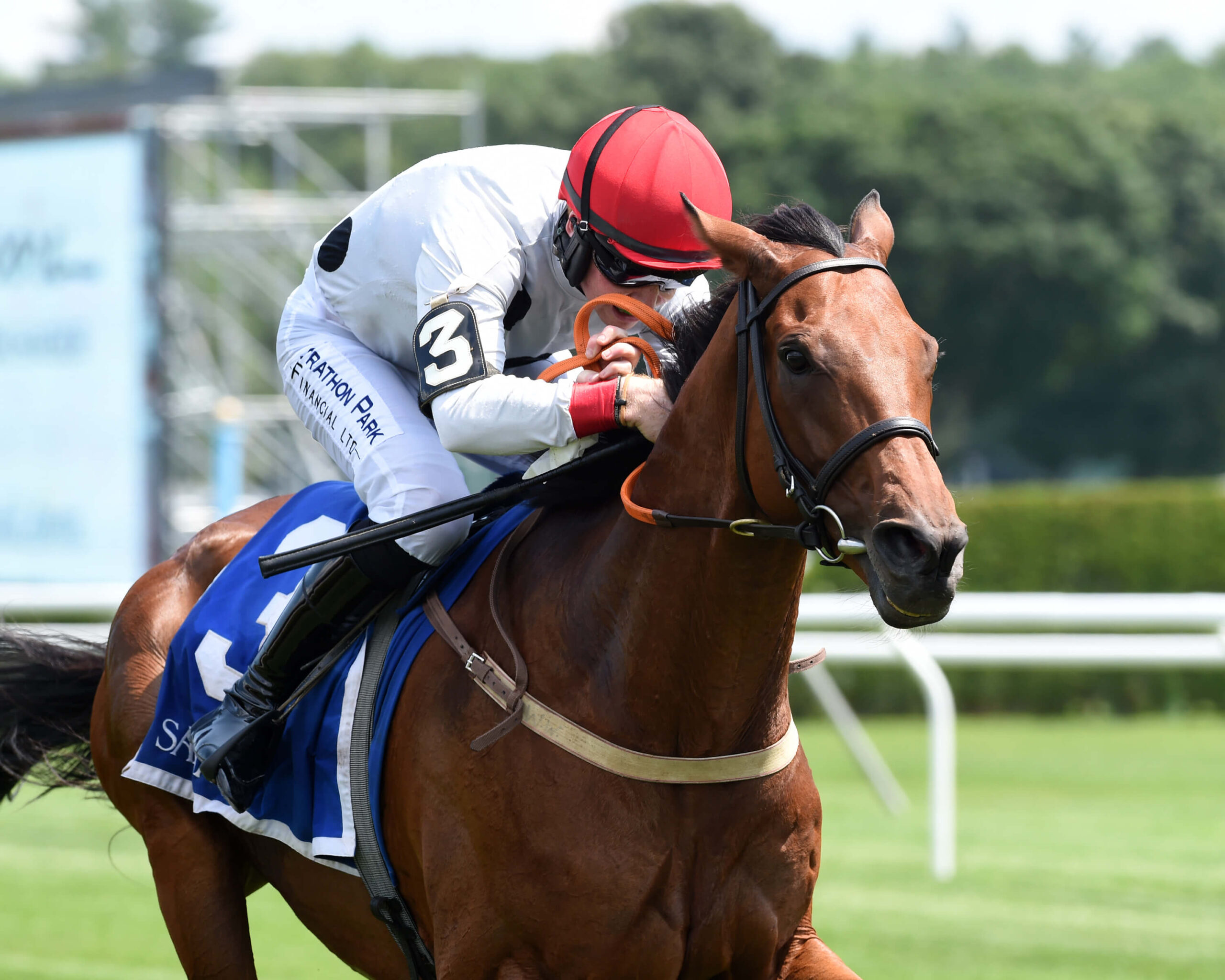 Winston C's trips to the winner's circle are part of a journey that began for Swyer in the 1980s, with his first New York Turf Writers Cup. He was smitten by the "power and elegance" of its horses and riders. "I never forgot it."
"I wanted a good horse to show off to friends but winning two Grade 1s at Saratoga is something I will never forget. There's nothing like winning at home with longtime friends, around so much racing history."
Winston C's all-business approach earned a spot in North American steeplechasing history when he received 158 first-place votes from the National Thoroughbred Racing Association, Daily Racing Form, and National Turf Writers and Broadcasters to earn an Eclipse Award at the 49th annual dinner in January at Gulfstream Park.
"I'm always prepared for the worst," the pragmatic trainer confessed. "But the closer that we got, the more I thought we had it. After Saratoga, it was icing on the cake."
Sheppard set an unbroken winning streak at Saratoga that lasted 47 years (1969-2015) before Winston C added this latest feather to his cap. "It's a blessing to have such a good horse to work with and a good friend for an owner. What more could anyone ask for?"